Events are the lifeblood of Icon's Groups and Networks!
The provision of high quality, affordable and accessible training for conservators is a key strategic activity for Icon, and Icon Groups and Networks and Icon's Professional Development Team regularly organise training events to support the professional development of Icon members and non-members alike.
Here you can find some guidance on what you need to do to organise and deliver events for Icon members:
---
How to plan an Icon Event
Planning an event can be made easy if you visualise all that needs to be done as a series of stages.
Firstly, consider the purpose of your event. What are your objectives, and who is the target audience for this? Do you have any evidence to indicate how likely your target audience will be to engage with your event?
Secondly, consider your objectives in relation to Icon's Professional Standards. What Professional Standards are reinforced by the event? This will help to underscore how attending the event will benefit your target audience - and encourage them to book.
Icon's event brief template will help you plan the event outline and identify the actions required from here, but prior to this it's a good idea to review upcoming Icon events on the website. If there are similar events in the pipeline already, you'll be fighting to attract the same people - not ideal!
Also make sure your intended dates to not conflict with any other events that might already be up and running - and have attracted the same people you'll be inviting to attend your event at the same time.
Follow the instructions below and submit your event at icon.org.uk/submit-your-event.html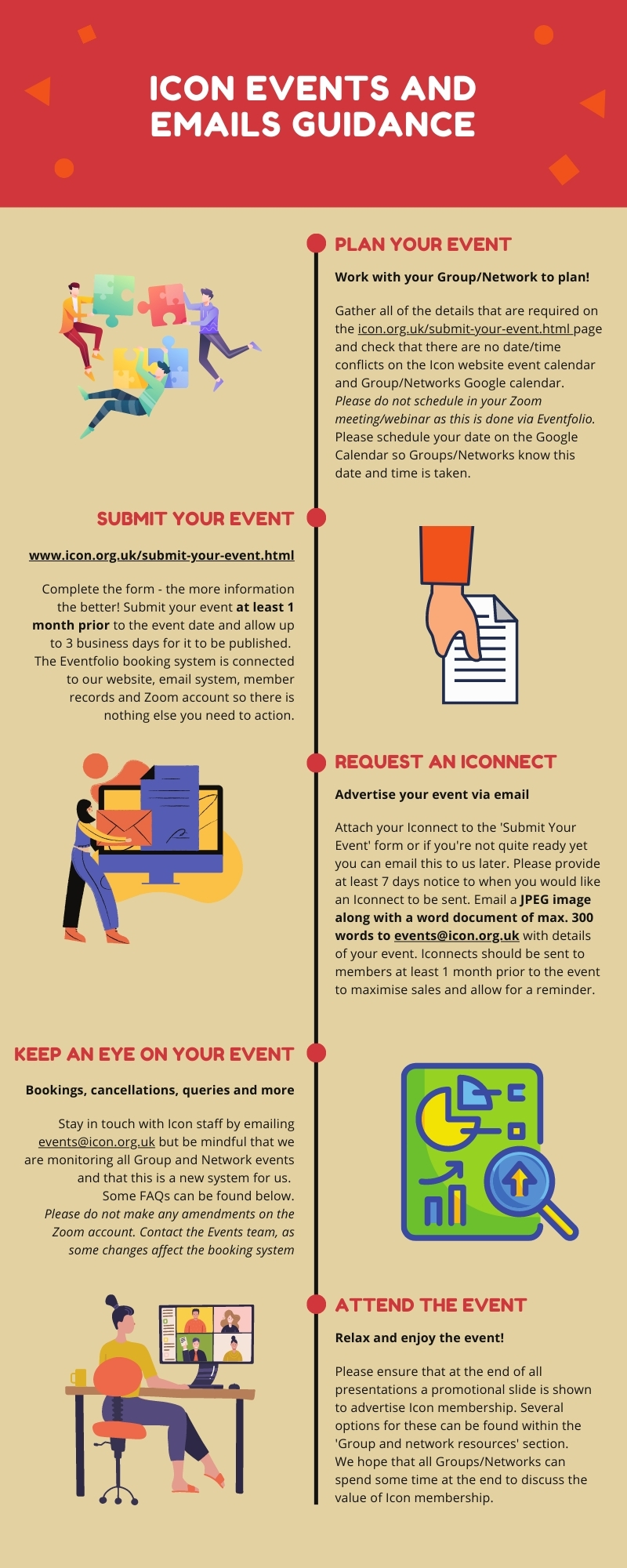 How to access Icon's webinar platform
Icon's Groups and Networks benefit from access to a webinar platform which is free to use for all Group and Network events. To gain access, liaise with the Membership Officer.
For advice on how to run effective heritage webinars, see this video prepared by Charity Digital.
For how to start a Zoom Webinar or Meeting, see the video below.
If you are planning to record the event, you need to have your presenters sign a consent form where they agree to be recorded. Icon's template can be found below.

Icon Consent form for Events.docx
Don't miss your chance to recruit more members to bolster your hand and keep interested people involved with us!
Just drop in one of these handy slides at the beginning or end of your event Powerpoint presentation, and if possible close with a few words encouraging events attendees to join and get involved.

Icon Slide for Presentations.pptx
Postprints Guidelines
There is often substantial demand for postprints, particularly after larger conferences and symposium - and these can often provide a worthwhile legacy for such events that can help funders to recognise the value of support for the event, either for individual delegates or as an opportunity for sponsorship.
The postprints section of the Icon website was designed as a permanent home for Group postprints, which could be uploaded in a consistent look and style.
FAQs