The Fred Bearman Grant relies entirely on generous donations from individuals and private institutions to continue. If you'd like to be part of supporting the future of conservation research, you can donate via our website using the button below, scrolling down and selecting 'Frederick Bearman Fund' in the Cause drop-down menu.
All donations are gratefully received and no amount is too small.
If you are a UK taxpayer, please consider adding Gift Aid to your donation so that we can claim the tax back on your donation.
---

The Frederick Bearman Research Grant has been set up by the Icon Book & Paper Group in response to suggestions from members who asked that we find a way to remember Fred and his contribution to the conservation profession. In collaboration with those closest to Fred, we are delighted to be able to offer a £1000 research grant to help fund, encourage and support new research into any aspect of books, paper and related materials.
'Thank you to all of those who applied for the 2022 round of the grant. Applications are currently closed and will reopen in late 2023. Please keep an eye on the webpage for updates on the FBRG including the 2023 Lecture from the 2022 winner.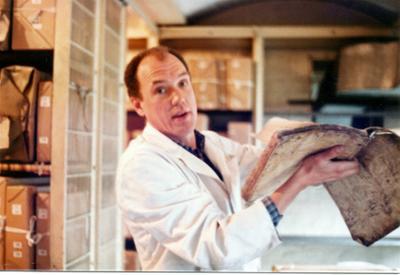 Frederick A Bearman led a diverse international career as a distinguished conservator, educator and administrator in the field of rare books and archives. He spent 26 years at The Public Record Office where, among numerous other projects, he was part of the team that rebound the Domesday Book for its 900th Anniversary. He later became Head of Conservation & Collections Care at Columbia University Libraries, New York, before returning to the UK as Preservation Librarian for University College London.
Fred was also a key figure in conservation education in the UK for many years. In 1997 he became Director of Conservation at Camberwell College of Arts, where he was course leader for both the BA and MA courses. After moving away from his post at Camberwell, he continued to be a strong supporter of the conservation courses there. Whilst Preservation Librarian at UCL he hosted countless placements that enabled students to expand their practical experience, and helped to provide and advise on many final projects. The students benefited greatly from his vast knowledge and his animated lectures.
After joining UCL, Fred dedicated his time to researching the university's special collection of rare books, manuscripts and archives. His further studies of the practical aspects of the account binding provided his book and paper conservation colleagues across the world with valuable insights into the history and materiality of this common binding-style. He was widely loved and respected by colleagues across the profession.
The grant is available to any professional regardless of specialism or area of practice - you might not even be a conservator! We are eager to hear from people with backgrounds in conservation, heritage science, art history, curation, literature, printmaking, craft making, book arts, calligraphy etc.
As some examples, your research project could be a preliminary investigation into old or new materials, tools and techniques, or a study of a particular collection, binding style or an artist's work. You may use funds to purchase equipment, materials and tools and/or fund travel, books, workshops or courses, visits, materials, fees etc. so long as you can demonstrate its relevance to your research.
We welcome applications from individuals at all stages of their careers, either as individuals or collaborations and projects of any scale.
The recipient of the award will be selected by a panel and will present their investigations as the keynote speaker(s) at the Frederick Bearman Memorial Lecture, which will provide an exciting, informative and welcoming platform through which to share your research with the conservation community. The Icon B&PG will support the recipient every step of the way and assist with any relevant issues that arise.
To apply for the research grant, please send your application by email to [email protected]. All the information required for the application can be found within the 'Application Notes and Guidance' document below. This also includes the Terms and Conditions which you will need to accept and give details of a referee who can provide a letter of recommendation. Applications are currently closed and will reopen late 2023.
You do not need to be an Icon member at the time of applying, but if awarded the grant, you will need to become a member to be awarded the funding.
The Work of Their Hands: Binders, Bindings and Material Use in the Construction, Care and Conservation of Catholic Written Heritage Collections
The grant will be used to fund research into the construction, care and conservation of Catholic collections, with a focus on investigating further into the use of materials such as kid gloves as a construction and repair material.
The research will look further into how through financial and political necessity, several Catholic library collections have undergone repair by the communities they served. This is most apparent in three, specifically Jesuit-influenced, collections: the library at the Bar Convent, York; the library collections of the Canonesses of the Holy Sepulchre, now held in Palace Green Library by the University of Durham; and the Heythrop collection held at Campion Hall, University of Oxford.
Victoria will present her research at the Memorial Lecture in 2024.
Biography
Victoria Stevens ACR is a library and archive conservator accredited by the Institute of Conservation (Icon). She has worked in written heritage conservation for over 25 years, mainly in the central library and college collections of the University of Oxford but also in local government, museum, educational and religious libraries and archives across the country. She managed her own UK-wide conservation practice and preservation consultancy until April 2022 when she was appointed as the library and archive conservator for the University of Reading Museums and Special Collections.
Victoria is particularly involved in engagement, interpretation and outreach: she offers a programme of tactile sensory workshops aimed at people with additional, SEND or PMLD access needs which aim to enable everyone to understand and enjoy the material qualities of archives and their conservation. She is also the lead for learning and engagement at Wycombe Museum.
Victoria is a strong advocate for the conservation profession: as well as having a conservation teaching background, she currently serves not only as an Icon accreditation assessor but also as a committee member of the Archive and Records Association's Preservation and Conservation Group. Furthermore, she sits on the Fabric Advisory Committee of Hereford Cathedral as their conservation adviser.
The Frederick Bearman Memorial Lectures
The Frederick Bearman Research Grant was set up by the Icon Book & Paper Group in 2018 and below you can find biographies and abstracts of recipient winners along with links to articles and bibliographies of their research and recordings of their Frederick Bearman Memorial Lecture presentations.
'Blessed is that paper': The Dhan Su Kagad research project
South Asia has an extra-ordinarily rich tradition of papermaking which continues to this day. Papers made in South Asia were fundamental to the development of artistic and book-making traditions. Yet, there has been no technical analysis of historical specimens or the development of a typology for categorising them. The Dhan Su Kagad project (translated as "blessed is that paper", taken from a Sikh liturgical quotation) was conceived to fulfill this purpose by surveying a representative sample of papers from the Sikh tradition. Jasdip Singh chose to initially focus on the Sikh tradition based on his interest in Sikh manuscripts which cover a wide time-span from the 15th to the 20th century.
You can find an article on the project on the Icon BPG Blog here.
This lecture will cover the early history of South Asian papers before detailing the research undertaken on collections in Panjab-India (funded by the Frederick Bearman Research Grant), private collections in the UK, as well as institutional collections such as the Bodleian and British Library. It will be shown how physical measurements, transmitted-light photographs and portable photo-micrographs were used to record chronological and geographical changes in the technologies of paper production.
About the speaker
Jasdip Singh Dhillon is a book and paper conservator based at the Oxford Conservation Consortium. He also helps manage Pothi Seva, a charitable organisation which provides a conservation service for the repair of Sikh manuscripts and printed books. You can find a bibliography here.
Islamic slipcase research project
Click here for a Subject Bibliography.
The overall aim of David's research was to, first, gain an understanding of the physical characteristics and making of these objects, second, their relationship (or lack thereof) to the manuscript they protect and, third, to ascertain their condition. In 2018 preliminary studies at the University of Leiden Library highlighted that existing hand lists and catalogues for Islamic manuscripts in the Middle Eastern collections would not be of assistance in identifying manuscripts with slipcases: most of them contain cursory entries that are unconcerned with the materiality of the objects and, when they refer to the topic, slipcases are often unmentioned (Witkam, J.J, 1987).
These challenges, in combination with the lack of in-depth knowledge about the differences in types of materials and structures that would have been used, narrowed this project's focus to refining a database model for Islamic slipcases.
David's lecture outlined a survey of selected literature, identifies structure and composition to be investigated and excluded from the database, and presents findings from the results of the survey in an account of the methodology. A case study of the Middle Eastern Collections at the University of Leiden Library, John Rylands Library, Berlin State Library, Cambridge University Library, and the Gazi Husrev-beg Library underpins this research. Unfortunately, David's presentation could not be recorded.
About the speaker
David Plummer graduated with a Post Graduate Diploma in Conservation of Books and Library Materials from West Dean College in 2019, thanks to the support of the Anna Plowden Trust and the Dr Robin Barnard Scholarship. In 2018 he was awarded the Zibby Garnett Fellowship, for a placement in the conservation workshop of the University Library of Leiden. Under the tutelage of Dr Karin Scheper, he worked on the 'Digitisation Project of Yemeni Manuscripts, a joint project by the Institute for Advanced Study in partnership with the Hill Museum & Manuscript Library in Minnesota. With the support of the Barbara Whatmore Bursary he returned to Leiden University Libraries in 2019 to work with bindings from Central Asia. He is currently working at the Archdiocese of Malta as a book conservator. He is a conscientious emerging conservator, ostensibly advocating for the preservation of original structures and materials.
New Perspectives on Old Material: Heavy Metals and 19th-Century Euro-American Bookcloth Manufacture
The Icon Book and Paper Group are pleased to present the delayed lecture for the 2020 Winner of the Frederick Bearman Research Grant.
As all of you might have noticed, worldwide events in 2020 delayed many things, including the opportunities for research in the field of conservation. Happily one of the 2020 winners of the grant was able to continue their research recently and is now able to present their findings in the annual FBRG lecture.
This lecture will focus on the aspects of the ongoing Poison Book Project at the Winterthur Museum, Garden and Library and the research that the FBRG enabled. The Poison Book Project began in 2019 and intends to investigate the use of hazardous arsenical compounds in the production of commercial bookcloth used in bookbinding in the 19th century.
For more details on the Poison Book Project you can read more here: http://wiki.winterthur.org/PoisonBookProject
Melissa Tedone and Rosie Grayburn have published an article covering this research in the Journal of the American Institute of Conservation: https://doi.org/10.1080/01971360.2022.2031457
Originally Presented: Thursday 25th August 2022
About the speaker
Dr Melissa Tedone holds a dual appointment as Associate Conservator/Lab Head for Book and Library Materials Conservation at Winterthur Museum, Garden, and Library, and Affiliated Associate Professor in the Winterthur/University of Delaware Program in Art Conservation (WUDPAC). She earned her PhD in Slavic literary history from Yale University, and her MSIS/CAS in Library and Archives Conservation from the University of Texas at Austin.