The Fred Bearman Grant relies entirely on generous donations from individuals and private institutions to continue. If you'd like to be part of supporting the future of conservation research, you can donate via our website using the button below.
Scroll to the bottom of the page, enter the amount you wish to donate and then choose 'Frederick Bearman Fund' from the list of causes.
All donations are gratefully received and no amount is too small.
If you are a UK taxpayer, please consider adding Gift Aid to your donation so that we can claim the tax back on your donation.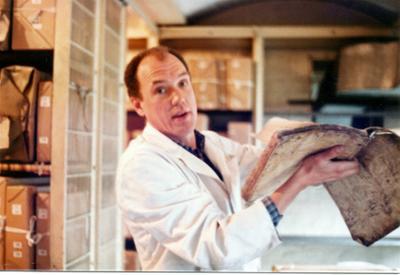 Frederick A Bearman led a diverse international career as a distinguished conservator, educator and administrator in the field of rare books and archives. He spent 26 years at The Public Record Office where, among numerous other projects, he was part of the team that rebound the Domesday Book for its 900th Anniversary. He later became Head of Conservation & Collections Care at Columbia University Libraries, New York, before returning to the UK as Preservation Librarian for University College London.
Fred was also a key figure in conservation education in the UK for many years. In 1997 he became Director of Conservation at Camberwell College of Arts, where he was course leader for both the BA and MA courses. After moving away from his post at Camberwell, he continued to be a strong supporter of the conservation courses there. Whilst Preservation Librarian at UCL he hosted countless placements that enabled students to expand their practical experience, and helped to provide and advise on many final projects. The students benefited greatly from his vast knowledge and his animated lectures.
After joining UCL, Fred dedicated his time to researching the university's special collection of rare books, manuscripts and archives. His further studies of the practical aspects of the account binding provided his book and paper conservation colleagues across the world with valuable insights into the history and materiality of this common binding-style. He was widely loved and respected by colleagues across the profession.

The Frederick Bearman Research Grant has been set up by the Icon Book & Paper Group in response to suggestions from members who asked that we find a way to remember Fred and his contribution to the conservation profession. In collaboration with those closest to Fred, we are delighted to be able to offer a £1000 research grant to help fund, encourage and support new research into any aspect of the conservation of books, paper and related materials.
Any Icon member can apply, and we welcome applications from members at all stages of their careers, either as individuals or collaborations. We are looking for interesting and informative projects such as preliminary investigations into old and new materials, tools and techniques, or a study of a particular collection or binding style. Perhaps there is something you have been meaning to explore but haven't found the time or the funds? Or even research you have already started but haven't had the support to finish? You may be a recent graduate who wants to expand on your MA research, or a seasoned conservator who needs funding to follow an idea. Even small discoveries that you have made could have a big impact on the conservation community!
The recipient of the award will be selected by an expert panel and will present their investigations as the keynote speaker(s) at the Frederick Bearman Memorial Lecture, which will provide an exciting, informative and welcoming platform through which to share your research with the conservation community. The Icon B&PG will support the recipient every step of the way and assist with any relevant issues that arise.
To apply for the research grant you are required to complete an online application form which includes your applicant(s) details and a pdf upload of your project proposal. You will be also be asked to accept the Terms and Conditions outlined in the FBRG Further Notes and Application Guidelines document and will need to give details of a referee who can provide a letter of recommendation.
The FBRG Further Notes and Application Guidelines document below includes more information about the grant and important details on how to apply. You should read this thoroughly before you begin your application.
The Frederick Bearman Memorial Lecture 2018
Originally Presented: Monday 10th December 2018 in Bridewell Hall, St Bride's Foundation, 14 Bride Lane, London
The inaugural Frederick Bearman Memorial Lecture, presented by Jasdip Singh Dhillon, the first recipient of the Frederick Bearman Research Grant.
'Blessed is that paper': The Dhan Su Kagad research project
South Asia has an extra-ordinarily rich tradition of papermaking which continues to this day. Papers made in South Asia were fundamental to the development of artistic and book-making traditions. Yet, there has been no technical analysis of historical specimens or the development of a typology for categorising them. The Dhan Su Kagad project (translated as "blessed is that paper", taken from a Sikh liturgical quotation) was conceived to fulfill this purpose by surveying a representative sample of papers from the Sikh tradition. Jasdip Singh chose to initially focus on the Sikh tradition based on his interest in Sikh manuscripts which cover a wide time-span from the 15th to the 20th century.
This lecture will cover the early history of South Asian papers before detailing the research undertaken on collections in Panjab-India (funded by the Frederick Bearman Research Grant), private collections in the UK, as well as institutional collections such as the Bodleian and British Library. It will be shown how physical measurements, transmitted-light photographs and portable photo-micrographs were used to record chronological and geographical changes in the technologies of paper production.
About the speaker
Jasdip Singh Dhillon is a book and paper conservator based at the Oxford Conservation Consortium. He also helps manage Pothi Seva, a charitable organisation which provides a conservation service for the repair of Sikh manuscripts and printed books.