CPD Tips and Ideas
There are almost endless opportunities to support your ongoing professional development, and it can seem daunting to work out what is the right thing for you to do.
Below we have outlined a series and tips to help get you underway, however we are also here to help and support - please do get in touch with us by emailing [email protected] if you have any quesitons.
Top Tips
The most important factor to remember is that this is your own personal continuing professional development, not that of your employer.
Before you do anything take time to work out where you are now, if you dont do this you could find youself spending time and money on something which isn't going to be right for you.
Think about costs, we could all spend endless amounts of money on our CPD, but before you do anything ask yourself is this the best way of meeting my own CPD goals?
It's not only about workshops, training and conferences, depening on what you need to learn you might find that a call with an old colleague or spending time to read through back issues of the Journal of the Institute of Conservation might be just as effective.
You might already be doing things outside of your practice that are supporting your professional development, such as volunteering or something you do in your personal time.
Read more about what others are doing
A great way to give you inspiration is to read about what others have been up to, stories from members are all collated on the Icon website.
Ideas to consider
CPD doesn't have to be complicated or difficult. We've compiled some quick ideas for your CPD – whether you have 5 minutes, 1 hour or 1 day.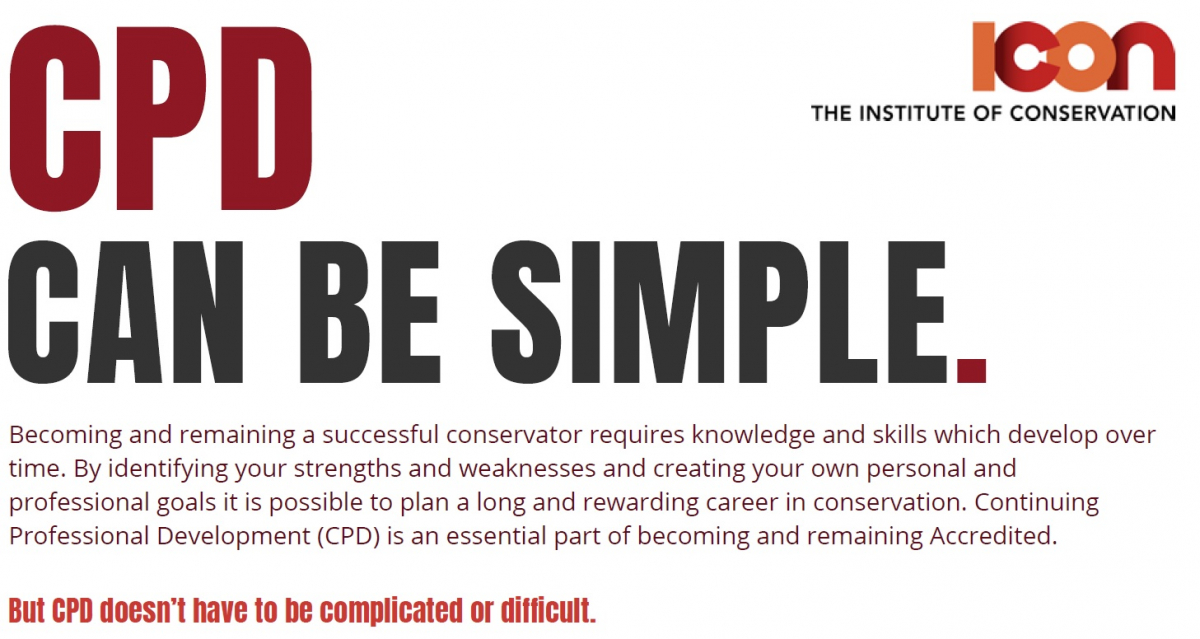 Click to download the CPD Guide