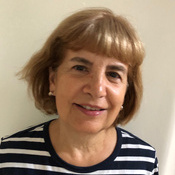 Helen Ganiaris
I have been Chair of the Archaeology Group since 2018. In March 2019, I retired from the Museum of London from the post of Conservation Manager of archaeology, objects and paper. I started at the Museum in 1980 as an archaeological conservator conserving finds from the numerous excavations, many of them waterlogged sites. I led the archaeological conservation team until 2001 and then took on the wider management role.
My areas of interest included involvement of volunteers in conservation, archaeological archive standards and display case materials. I am a Fellow of IIC and before retirement I was an assessor for PACR and an Honorary Research Fellow, University College London. Through these roles and my years at the Museum, I feel privileged to have been involved in the training of archaeological conservators from many conservation programmes. My main project for Icon AG is working towards the publication of the next edition of First Aid for Finds.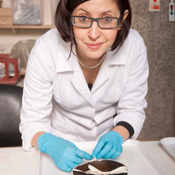 Luisa Duarte ACR
I am an archaeological conservator of 10 years' experience. After graduating from UCL with an MA and an MSc in conservation in 2010, I worked as an object conservator for the Imperial War Museum, moving to MOLA in 2011.
I have worked as an archaeological conservator at the Museum of London for two years. I specialise in the conservation of waterlogged organics and the display of archaeological materials in non-museum environments.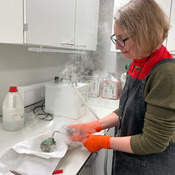 Hazel Gardiner
At UCL I completed the MA in Principles of Conservation in 2009 and the MSc in Conservation for Archaeology and Museum in 2011, following a career holding research and research-related posts at a number of University of London institutions.
Since becoming a conservator, I have held posts at the British Museum, the Ashmolean Museum, the conservation division of the Church of England, the Victoria and Albert Museum, Birmingham Museums Trust and the Museum of London. I have also worked as a freelancer on investigative archaeological projects in the UK and abroad, and for a range of museums and institutions. I currently work for Royal Museums Greenwich as Senior Objects Conservator (metals).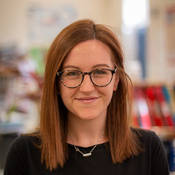 Charlotte Wilkinson ACR
After completing an MA in the Conservation of Archaeological and Museum Objects at Durham University, I began working as an Archaeological Conservator for the York Archaeological Trust in 2015.
I worked for the Trust for seven years and during this time was lucky enough to work on a number of interesting projects both locally and further afield, which allowed me to pursue my interest in the conservation of organic objects and the process of freeze-drying. In December 2021 I passed my Icon Accreditation and became an ACR. Recently, I have taken a step back from bench conservation and now work for a family business. However, I remain an active member of Icon and the Archaeology Group committee with my main conservation focus now being on research and publishing.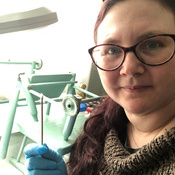 Claire Woodhead ACR
I work for the Hampshire Cultural Trust in Winchester, which has been home since 2007. This is my second stint on the Archaeology Group Committee, having previously served from 2008–2016.
In a former life I gained a BA (Hons) in ceramics and worked as a studio potter and a violin teacher in Devon, before completing the MA Conservation of Historic Objects at the University of Lincoln in 2007. I became accredited in 2011 and have since completed an MA in Regional and Local History and Archaeology, graduating with distinction in 2015. My interests are archaeological, ceramic and natural science conservation and I enjoy combining all these and more through work.
Mags Felter ACR
I am Senior Conservator at York Archaeological Trust, where I have worked since 2005. I work on freshly excavated material and archaeological museum objects. I have a keen interest in bone and antler objects and metals and also in on-site conservation and lifting of fragile materials.
I like to get involved with site conservation abroad and have attended excavations/heritage sites in Orkney, Turkey, Jordan, Turkmenistan and Azerbeijan, as well as sites closer to home. I am an associate member of the Chartered Institute for Archaeologists (CIfA) and currently serve as Secretary for the Finds Special Interest Group. I am CIfA Finds Group Representative for the Archaeology Group. In 2021-22 I will be on sabbatical from YAT and on a year-long contract in Oslo at the Museum of Cultural History.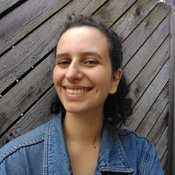 Riva Boutylkova
I completed a BA in Conservation/Restoration at Antwerp University in 2018, specialising in ceramics, and an MA in Conservation of Archaeological and Museum Objects at Durham University In 2020.
After this I worked at Dorset Museum, supporting their on-site gallery redevelopment project, before moving to the Museum of London to work with their archaeological collection. I now work as an archaeological conservator at MOLA (Museum of London Archaeology), where I treat freshly excavated archaeological material from sites in and around London. Besides my current work, my interests include glass and ceramics conservation and museum outreach projects. Before joining the Archaeology Group committee, I was a member of Icon's Emerging Professionals Network committee, where I helped organise various webinars and online panel sessions.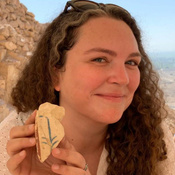 Reed Hudson
Since graduating from UCL in 2021 with an MA (Principles of Conservation) and MSc (Conservation for Archaeology and Museums) I have worked as a freelance conservator, specialising in archaeological materials.
I am based primarily in the UK, but also undertake conservation fieldwork internationally, most recently at sites in Egypt, Greece, and the USA. I have also worked in museums and private collections in the UK and Europe. Before training as a conservator I worked as a jeweller and gemologist and have a strong interest in the conservation of inorganic materials, although recently I have begun to focus more on archaeological organics. I am also interested in the management of archaeological sites and constantly seek new opportunities to continue learning and gaining experience as an emerging professional.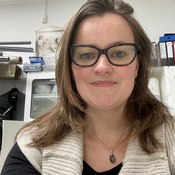 Eliza Jacobi
Since 2019 I have worked at the Dutch National Museum of Antiquities in Leiden, Netherlands as a conservator of organic archaeological materials. I have a MA in Art History (2004) and trained in book and paper conservation in Amsterdam (2008). I specialise in papyrus, parchment and leather conservation.
I have freelanced and have also held posts in a number of institutions including the Stedelijk Museum Amsterdam; the Palace of Yogyakarta (Indonesia); the National Gallery of Australia; the Islamic Arts Museum Malaysia; and the University Library Leiden. I teach at the University of Amsterdam on the Masters programme for Conservation and Restoration of Cultural Heritage.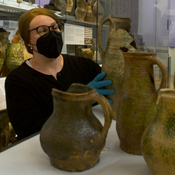 Kate Berlewen
I graduated from the UCL Institute of Archaeology with an MSc in Conservation for Archaeology and Museums in 2021, and an MA in Principles of Conservation in 2019. I have a strong interest in archaeological inorganics, ceramics analysis, and in the archaeology of the southwest, particularly Devon and Cornwall. I am currently involved in research funded by Historic England to establish fabric type series for medieval and post-medieval archaeological pottery in Devon and Cornwall. I am a part-time project conservator for the National Trust at A la Ronde, Devon.
I am an advocate and representative for diversity, equality, and inclusion in a number of my roles, and advocate for accessibility and representation in conservation and heritage.