The current members of the SGG committee took office in October 2018.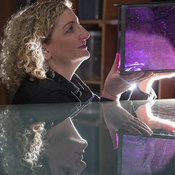 Moira Malcolm
Moira began her studies in Edinburgh College of Art before training in stained glass conservation in Scotland. In 2001 she decided to start her own business, Rainbow Glass Studio Ltd alongside her husband Stephen. Each year the company has grown and have completed many large-scale conservation projects in historic listed buildings.
Moira has built up her knowledge and deontology to preserve Scottish works of art for future generations to come. She is now involved in both stained glass conservation and contemporary design.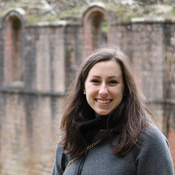 Carlotta Cammelli
Carlotta recently completed her MA in Stained Glass Conservation and Heritage Management at the University of York, for which she was also awarded an Anna Plowden Trust bursary in 2019. Previously to this, she has also achieved an MA in Art Gallery and Museum Studies from the University of Leeds.
In February 2021 she became Editorial & Technical Assistant for the online magazine Vidimus, and since May 2021 she has been working as a Graduate Conservator for Recclesia Stained Glass in Manchester.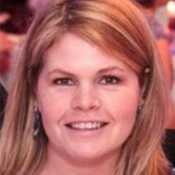 Laura Perry
Laura Perry has been working in stained glass conservation for over 20 years at Chapel Studio and at Goddard and Gibbs. Before beginning her training at Chapel Studio in 1995, Laura studied Architectural Stained Glass at Swansea and volunteered at the Museum of London helping to catalogue their Whitefriar's glass collection.
Laura currently works as a stained glass conservator at Chapel Studios in Kings Langley.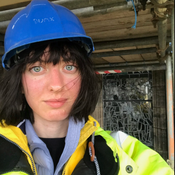 Vivienne Kelly
Vivienne is currently working toward her Master's degree in Stained Glass Conservation and Heritage Management at the University of York and is particularly interested in researching 19th and 20th Century Scottish glass. She is a QEST Trust Pilgrim scholar and holds a first-class Hons in Fine Art from Glasgow School of Art.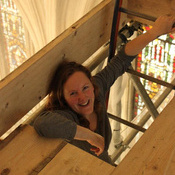 Emma Lanfranchi
Emma studied Architectural Glass at Swansea Institute. She then went on to train in conservation and worked for Holy Well Glass for 8 years (2008-2016) and now works as part of a small team at Dan Humphries stained Glass.
Jo Moylett
Jo graduated from the York MA in Stained Glass Conservation in 2019. Following the completion of her studies, she was awarded the Worshipful Glaziers' Award for Excellence: undertaking a series of placements at stained glass conservation studios in the UK and Germany. She is now in full time employment at Holy Well Glass.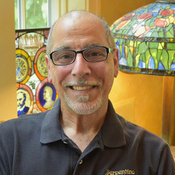 Roberto Rosa ACR
Roberto has been working as a stained glass conservator for 34 years.
Before joining Serpentino Studio, where he is now a principal, Roberto studied art in Italy where he lived for twelve years. Roberto was the first stained glass conservator to be awarded "Recognized Professional" status from the Association for Preservation Technology (APT). He is a Fellow Member of the American Institute for Conservation (AIC), a Board Member of the American Glass Guild and Chair of its Education Committee.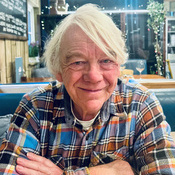 Chris Chesney
They say there's no fool like an old fool so as a member of the first UKIC Stained Glass Section Committee I definitely qualify as the latter. As a former chair and treasurer of the group I hope my experience can be put to good use and that my foolishness will provide much needed humorous relief. May the force be with you all.