The current members of the SGG committee took office in October 2018.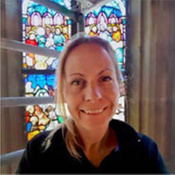 Sarah Jarron MA ACR
Sarah is an Icon accredited conservator with a Master's degree in Stained Glass Conservation and Heritage Management from the University of York. She has worked with various studios on numerous projects in the UK, Germany and Belgium.
She is currently the Senior Conservator and Studio Manager at Naumburg Cathedral, Germany.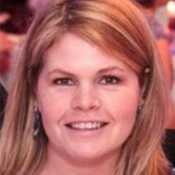 Laura Perry
Laura Perry has been working in stained glass conservation for over 20 years at Chapel Studio and at Goddard and Gibbs. Before beginning her training at Chapel Studio in 1995, Laura studied Architectural Stained Glass at Swansea and volunteered at the Museum of London helping to catalogue their Whitefriar's glass collection.
Laura currently works as a stained glass conservator at Chapel Studios in Kings Langley.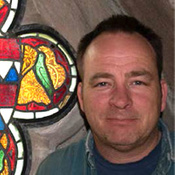 Jim Budd ACR
Jim Budd ACR has been running the independent studio, Jim Budd Stained Glass, for over 30 years. He is based in Radnorshire.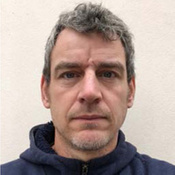 Dan Humphries ACR
Dan Humphries completed a BA in Architectural Stained Glass at Swansea Institute in 1997. He then trained at the relatively recently formed Holy Well Glass studio in Somerset where he went on to become an ACR and company director.
Dan set up his own small, busy studio in 2015, employing 3 other people and sits on the Glaziers Trust Committee.