Helping Ukrainian conservators come to the UK
Icon member Katya Belaia-Selzer is a founder of the UA-UK Cultural Heritage Initiative. For the past several months, she has been helping Ukrainian conservators come to the UK. Below, she writes about the project.
---
The UA-UK Cultural Heritage Initiative started as a grassroots movement following Russia's invasion of Ukraine in 2014. It was set up to promote Ukrainian heritage and to help develop professional networks between Ukrainian and UK conservators and institutions.
The UA-UK Cultural Heritage Initiative begun in the winter of 2014 as a small ember. Ignited by the news of the peaceful student anti-corruption protests in Kyiv's Maidan Square against the then pro-Russian president Yanukovich who proposed a closer trading relation with the Russian Federation after promising to sign an agreement for Ukraine's EU integration. A group of students came out to protest only to be brutally beaten by the police. This sparked such outrage amongst the Ukrainian population that huge numbers of people took to Maidan Square. As police brutality increased in an attempt to suppress the protests, the crowds grew from around the country.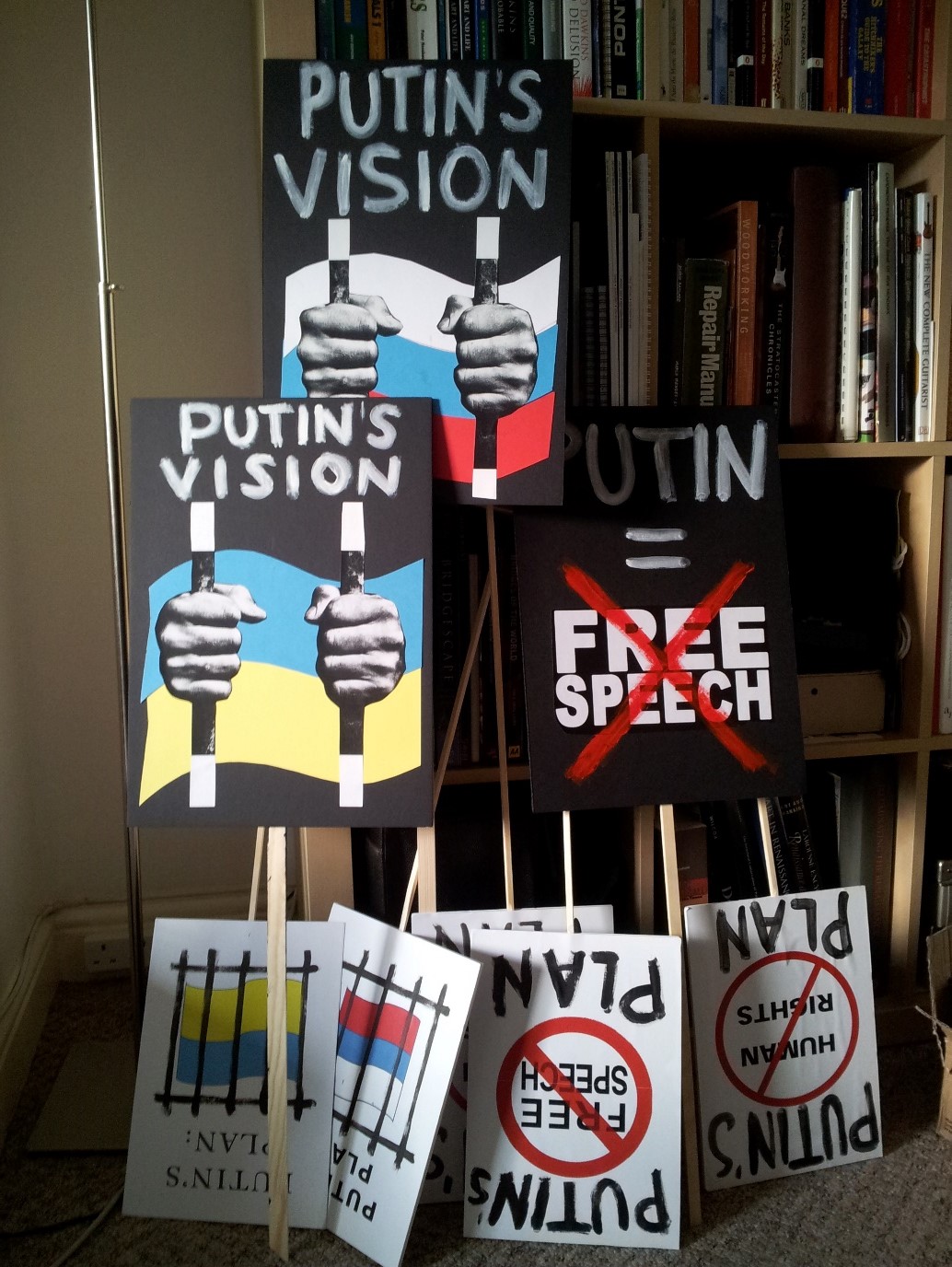 Then came the news of armed "green men" – Russian special forces - arriving in the Crimea, news of Ukrainian citizens being kidnapped and tortured, sabotage and the ultimate illegal annexation of Crimean peninsula and armed occupation of the Donbass regions. More and more people kept coming out into the streets to express their outrage at brutality, corruption and to defend their sovereignty, democracy and human rights.
Ukrainians joined forces to create voluntary battalions to defend their country against Russia's illegal and aggressive intrusion. The courage and determination of the Ukrainian people to defend their home and culture was as strong then as it is today.
As I began studying Ukrainian history, I felt an admiration for this bountiful and colourful nation whose identity and entire existence have been repeatedly threatened by the Russian empire. A nation whose self-sufficient and prosperous existence has come under threat throughout history, most terrifyingly during the deliberate famine of 1932-1933, Holodomor, created by the Soviet regime.
As soon as the pro-Russian government fell in 2015, I flew out to Kyiv. Everyone I met felt inspired by the changes they had brought about by coming out to protest, and the new government they felt represented their interests. However the Russian annexation of Crimea together with the armed invasion of the Donbass continued and would continue for another 8 years. Historically overshadowed by the Russian Empire, it felt important that Ukrainian culture should be given the chance to be known around the world.
I went to meet conservation colleagues in Kyiv to ask them about their work and hopes and needs for the future. Together with colleagues from various institutions around Ukraine we identified a need for practical workshops in things like varnishing, lining, preventive conservation, technical analysis and documentation.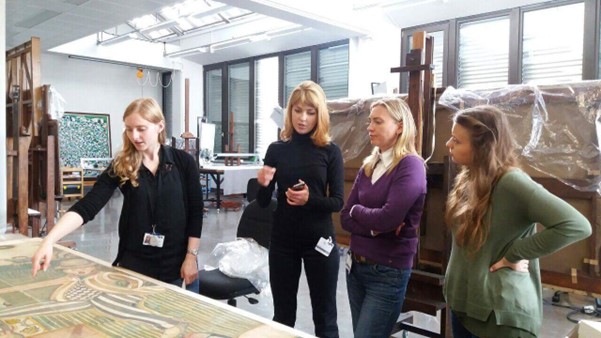 Decades of post Soviet corruption had impoverished the cultural sector. Many of the museum conservators I met would tell me that they were buying materials with their own money to conserve public collections, whilst existing on a minimal salary. Equipment which had been inherited from the Soviet Union era is in urgent need of modernising. Lack of funding has left much of the Ukrainian collections under-researched and in obscurity, whilst the Soviet legacy continues to steal Ukrainian artists such as Kuindzhi, Serebriakova and Aivazovsky by calling them Russian.
At this time, as a committee member of the BAPCR, I organised a five-day study trip for our members to Kyiv's conservation departments. On one of our visits to The National Academy of Fine Arts and Architecture we met Valeriia Kravchenko. She was then in her final year of paintings conservation MA and had greatly impressed us with her diploma project: a full-length ecclesiastical portrait, torn in many places and folded like a sheet of discarded paper. We were explained that such neglect and damage to Ukrainian collections remains the legacy of the Soviet era and its desire to erase Ukrainian culture. We rarely see damage on such a scale in the UK.
That trip had led to many long term friendships and collaborations. Valeriia has become a partner in the UA-UK Cultural Heritage Initiative and more recently has helped bring 15 conservators, including 5 students, to the UK through the Homes for Ukraine sponsorship scheme.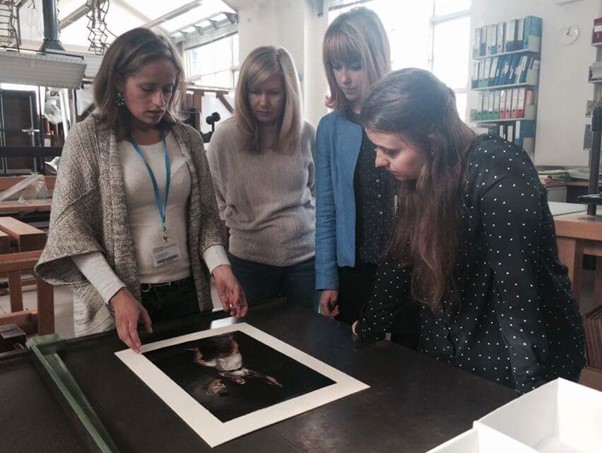 Following that initial trip to Kyiv, we had success applying for a number of British Council grants to develop professional collaborations between UK and Ukraine. You can find out more here.
Then on 24th of February 2022 – the unimaginable. A date which will be etched into history books: the day Russia waged a full scale unprovoked invasion of Ukraine. Since the beginning of the invasion we have joined forces with the international collective effort to bring conservation material aid to Ukraine.
Our JustGiving fundraiser for conservation materials has raised over £2000 and we have received incredibly generous donations of conservation equipment from colleagues in UK.
With support from IIC, Valeriia and I are currently working on the first Anglo-Ukrainian conservation dictionary.
To date, we have been able to find paid conservation employment for – Ukrainian colleagues in private studios around the country including: Sophie Reddington, Polly Saltmarsh, Paola Bernardist, Janie Lightfoot Textiles, The Perry Lithgow Partnership Ltd, Kiffy Stainer-Hutchins & Co, Decowell Restoration and Decoration, Everett Fine Art Ltd, and Hirst Conservation Ltd.
There are also numerous amazing Icon members who have volunteered their time and advice to help our Ukrainian colleagues.
More action has been taken to support Ukrainian heritage in the past four months than in the entire eight years that I have been establishing my grassroot initiative and I hope it continues. It is a testament to the strength of international solidarity towards Ukraine's cause and the indisputable clarity between right and wrong that motivates and inspires. I want to see Ukraine succeed in securing its borders and independence, to rebuild its infrastructure so my family and I can only again embrace each other, and above all for its unique and beautiful culture and heritage to prosper.
The support our Ukrainian colleagues have received here in the UK is incredible. From the moment they arrived they have received such abundance of help from their sponsors, local authority, neighbours, colleagues, strangers! Their professional experiences will make them better equipped to rebuild Ukraine and to disseminate their newfound knowledge amongst their peers.
On a personal level, I can see that the positive encounters are slowly wiping away the terror through which these people have lived. The nightmares gradually stop, replaced by normality and sense of usefulness and purpose. Four months can seem both infinitely long and fleeting. One thing is certain - the English weather remains a constant topic of amusement!
Slava Ukraine!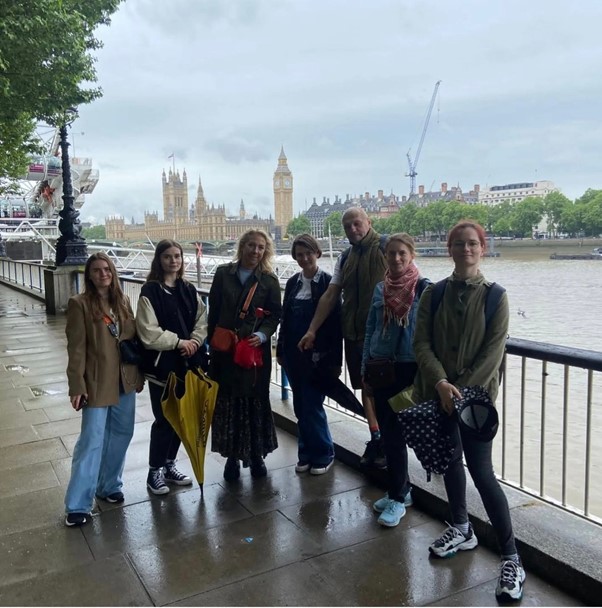 You can help to support our cause through the JustGiving page.
---
Katya Belaia-Selzer is a freelance paintings conservator. She acted as National Specialist Assistant Adviser on paintings conservation for the National Trust between 2017 and 2020. She received formal conservation training from the Courtauld Institute of Art (2007-2010) where she was a National Association of Decorative and Fine Arts Society (NADFAS) scholar.