Gibson, the iconic guitar brand, launches the Gibson Repair & Restoration Shop
Gibson, the American instrument brand founded in 1894, introduced the re-launch of the Gibson Repair & Restoration Shop.
The Gibson Repair & Restoration team offers a highly skilled and trained staff of experienced luthiers and techs in a climate-controlled environment. They are equipped to perform all phases of guitar repair and restoration, from basic setups to full restorations of damaged or neglected vintage instruments. The project aims to service a guitar's needs through the lifetime of the instrument.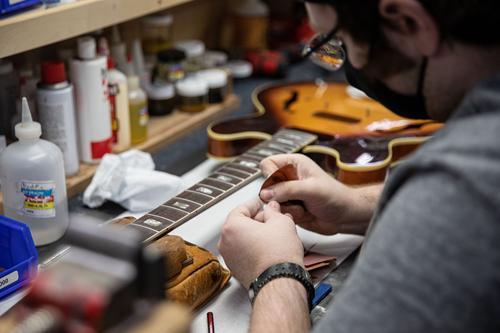 The project builds on the brand's successful Virtual Guitar Tech Service, and instrument owners will have the ability to schedule a free live virtual video call with a Gibson Repair &Restoration Tech to assess the work that is needed, based on the model and style of the guitar. A "repair" typically relates to an acute issue, and a "restoration" usually happens with old vintage instruments that have been found, or neglected guitars that need to be brought to life.
The most common issues are broken headstocks, along with finish and environmental damage. Some tips to prevent damage are frequent servicing, especially if the instrument doesn't get played often; a good storage environment, avoiding extreme temperatures and humidity; and supporting the headstock in the guitar case when storing the instrument.
Watch the Gibson Repair & Restoration Team bring guitars back to life: