ESN Twitter Conference
Icon ESN tweet @icon_esn. Say hello and don't miss our Twitter Conferences!
The next ESN Twitter Conference will take place Tuesday, 21st September! Interested in presenting? Email us at [email protected]! Submission forms are due 31st August, so be sure to get in touch before then.
Our previous Twitter Conference was held Tuesday, 16th March. Below you'll find a list of speakers and their topics. In case you missed it, catch up by searching the hashtags #IconTC #IconESN on Twitter. See the March timetable and speaker bios below.
Twitter Conference Titles and Times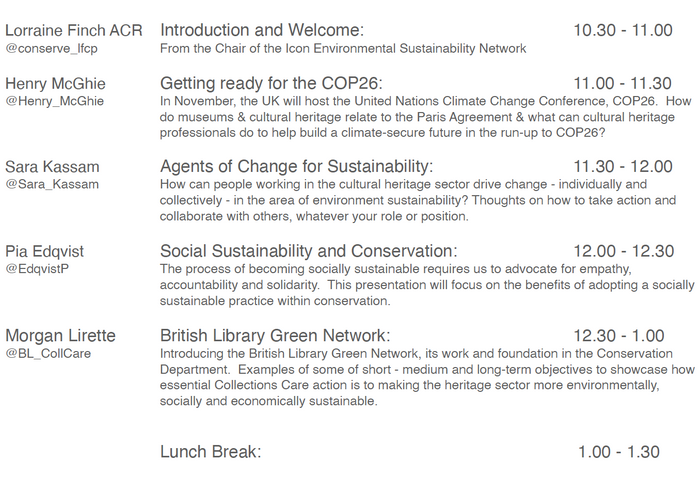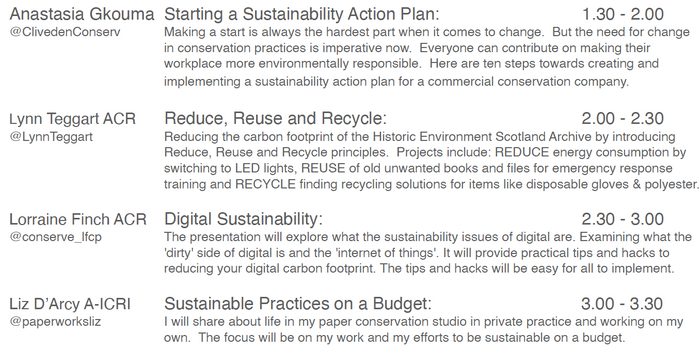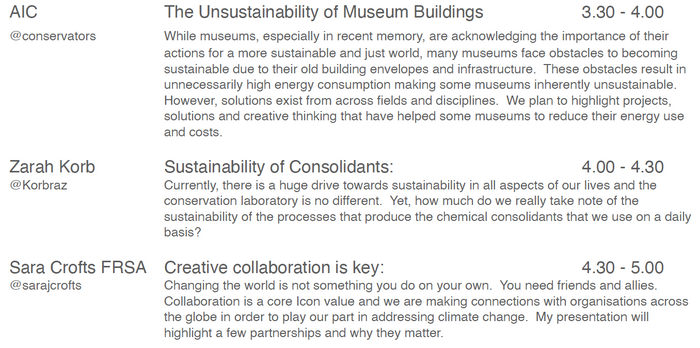 Twitter Conference Contributor Biographies
Lorraine Finch ACR: Chair of the ICON Environmental Sustainability Network. I have a long history of involvement in environmentalism and sustainability. I want to help all those working in the cultural heritage sector to be more environmentally sustainable.
Henry McGhie: Henry McGhie has a background as an ecologist, museum curator and senior manager. He set up Curating Tomorrow in 2019 to help museums enhance their contributions to sustainability, the SDG's, climate action and biodiversity conservation.
Sara Kassam: Sara is Sustainability Lead at the V&A, with a multi-site remit to embed sustainability expertise and drive systemic change in museum operations and behaviours.
Pia Edqvist: I am an Objects Conservator with a special commitment to sustainability, human rights and ethics. I therefore joined Ki Culture in 2019 to become the Co-Director of Social Sustainability. Ki Culture is a non-profit organisation that provides sustainable solutions for cultural heritage.
Morgan Lirette: Morgan is a Book and Paper Conservator at the British Library, having graduated from the Université Paris 1 Panthéon-Sorbonne in 2018. She is the founder and current co-chair of the British Library Green Network.
Anastasia Gkouma: Objects conservator with a MSc degree in Conservation from Cardiff University. My current role as part of the Cliveden Conservation team involves leading and designing a new sustainability action plan.
Lynn Teggart ACR: Paper Conservator and member of the Green Champions Network at Historic Environment Scotland - striving for a reduced carbon footprint at work and at home.
Liz D'Arcy A-ICRI: Paper Conservator in private practice for 25 years based in Wicklow, Ireland. M.A Conservation of Fine Art on Paper from University of Northumbria, UK. B.A History of Art and Archaeology, University College Dublin, Ireland.
AIC Sustainability Committee: American Institute for Conservation Sustainability Committee is composed of conservators and allied professionals who are committed to promoting and advancing sustainable projects, information and solutions for the world's current climate and ecological crises.
Zarah Korb: Marie Sklodowska-Curie Career Restart Fellow at the University of Basel. Research focuses on bio-based materials design in the heritage realm and beyond.
Sara Crofts FRSA: I trained as an Architect specialising in historic building conservation but quickly moved into the voluntary sector, taking on roles at SPAB and the Heritage Lottery Fund. I am now Chief Executive of Icon.