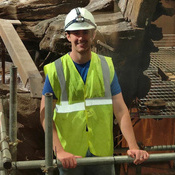 James Harvie
James is the network chair for Icon EPN. He is currently interning at the Western Australian Shipwreck Museum, primarily working with maritime archaeological objects and getting up early to attend Icon EPN meetings. Prior to his time in Australia, James spent time as the 2022 Western Heritage Conservation and Heritage Science Intern at the Mary Rose. His work at the Mary Rose included helping to conserve and analyse the Mary Rose using various analysis methods and data sets.
James studied at Durham University, completing his masters in the Conservation of Archaeological and Museum Objects in the summer of 2022. His placement year was spent at Bevaringscenter Fyn, Denmark, where he worked on honing his abilities as an object conservator.
His undergraduate degree was in Ancient History and Classical Archaeology at the University of Edinburgh where his experiences on excavation first got him interested in the field of conservation.
While James has worked with and researched waterlogged wood heavily, on which he is presenting a paper at the upcoming ICOM Waterlogged Organic Archaeological Materials conference in Mainz, he has so far enjoyed treating a wide variety of materials and learning about the wide variety of different fields of conservation.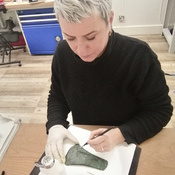 Carola Del Mese
Carola is our Communications Officer and facilitates contact within Icon, and she completed a Post Graduate diploma and MA in Conservation of Metals at West Dean College, in 2022. Her undergraduate degree was in 3-Dimentional Glass Craftsmanship and Design at Wolverhampton University. She is currently a Project Conservator based at the Historic England conservation labs in Portsmouth, working collaboratively with MSDS Marine. Her projects vary and include conserving objects recovered from the Rooswijk shipwreck, micro-excavating a Roman hoard and conservation assessments for terrestrial finds.
She can be found on Instagram, talking about her projects @CarolaDelMese.
Carola entered conservation from a career in the creative arts, having trained as a theatrical prop-maker at Glyndebourne Opera House, focusing on metalwork, scenic prop making and sculpture.
In 2018 Carola undertook an internship in the conservation department of Brighton Royal Pavilion and Museums, and during her Post Graduate year at West Dean, Carola received the Arts Scholar's Conservation Award, the Sydney Sanders Trust Award and The BADA Harold Davies Prize for her student projects. Prior to her MA in 2020, Carola interned at Fishbourne Roman Palace and Worthing Museum in Sussex and initiated public engagement projects within both of these institutions. She is currently planning a collaboration Conservation Station with Fishbourne Roman Palace for Heritage Open Days 2023.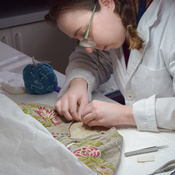 Katica Laza
Katica is one of our duo running the social media platforms of the network. She is a recent graduate of the MPhil Textile Conservation course at the University of Glasgow with an undergraduate degree in Theatre, Film and Television. Her following career as a freelance set and costume maker and volunteering at the Milton Keynes Museum ignited her interest in pursuing the conservation of textiles.
In the summer of 2021 she undertook a placement at the British Library helping with the preparation and deinstallation of the institution's exhibitions such as Unfinished Business: The Fight for Women's Rights and Paddington: The Story of a Bear. Her time on her placement sparked an interest in working with textiles on books, focusing on multi-disciplinary work, and mixed-media objects leading her to undertake her dissertation research on the conservation of velvet covered books. Her passion in this area has led her to work with more textiles in a library setting as the T.A Barron Intern at the Bodleian library.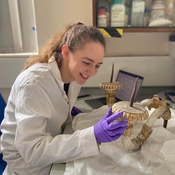 Anna Crowther
Anna is a student member of the Emerging Professionals Network who is currently studying MA Conservation of Archaeological and Museum Objects at Durham University and is completing her second year placement at Lancashire Conservation Studios. Her undergraduate degree was in BA History and Politics at Lancaster University. Following this she worked for three years at various Lancaster-based museums where she found a passion for conservation and care of collections.
She is still exploring new interests, and working with new materials, but her main interests currently lie within decorative arts and social history collections, in particular ceramics and glass collections and ethnographic objects. As part of the Icon EPN committee she is keen to promote the work of emerging conservation professionals and encourage their career progression, increasing access to resources, particularly via social media and events.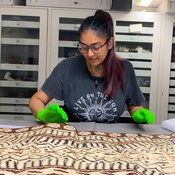 Camella Ramjet
Camella is our Equality, Diversity and Inclusion Officer. Camella is currently training at English Heritage as a Preventive Conservator. She completed an MA in Principles of Conservation from the UCL Institute of Archaeology, where she was elected student officer for UCL's disabled students as well as Equality, Diversity and Inclusion representative. Her research focused on exploring decolonial routes to contemporary conservation. Camella also worked as a Collections Manager on a large-scale store move of UCL's Ethnographic Collections. 
Prior to her MA, Camella undertook a 1-year traineeship at The British Museum as a Community Partnerships officer. She was involved in delivering workshops, outreach and public events. Additionally, she assisted in the curation of 'Desire, love, identity: LGBTQ histories' exhibition and gallery trail. She received training from curators and conservators to manage the preventive conservation and audit of the department's handling collection, which includes over 600 objects. Working collaboratively with other teams, she provided objects from the collection to be featured in exhibitions. 
After her traineeship Camella continued at The British Museum working with the Africa, Oceania and Americas Department on collection care and access. She also started a project with the aim of digitising and documenting Caribbean collections. Her work involved research to update the biographies of these objects and preventive conservation. Camella has worked in various collection care positions at the Science Museum Group, Natural History Museum and at the Royal Geographic Society with Wiley Digital Archives, where she independently managed the recant and documentation of collections and archives. Camella is a strong advocate for equality, she believes cultural heritage should be accessible to all.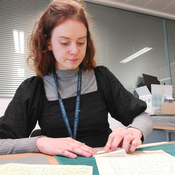 Joanne Fulton
Joanne is the Treasurer for Icon EPN. Since graduating in 2021 from the MA Conservation of Fine Art: Works on Paper course at Northumbria University, she is currently working as a Conservator (Collections Care) at Durham University, primarily undertaking a collection storage audit alongside other collection care responsibilities.
Prior to this current role, Joanne has worked at The University of Edinburgh as a Conservation Intern, and volunteered for several years across National Trust sites, Seven Stories: The National Centre for Children's Books, The Bowes Museum, and The Whitworth.
Across her experiences, Joanne has been inspired working with other conservators, and as part of the ICON EPN team she wants to help encourage this supportive and active community.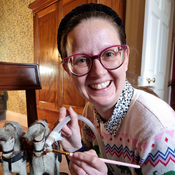 Davina Thompson
Davina is the Icon EPN Secretary and is currently studying MA Conservation of Archaeological and Museum Objects at Durham University.
She is completing her second year placement at Raby Castle, Tyne and Wear Archives and Museums (TWAM) and AOC. Davina is particularly interested in the balance between preservation and use of collections as well as the conservation of cellulosic, protein-based and modern synthetic polymers. Prior to entering the field of conservation, Davina served in multiple roles across senior leadership teams in secondary schools whilst teaching Classics and English to students from Year 7 to A-Level.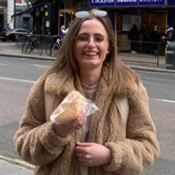 Georgia Kinsella
Georgia is one of the Events Coordinators for Icon EPN. She is a contemporary artist, having completed her BA (Hons) in Fine Art at De Montfort University; therefore she is really interested in the conservation of contemporary art and the curation of exhibitions.
She is currently completing her MA in Principles of Conservation at UCL and has joined Icon EPN as events coordinator as she really wants to widen her experience within conservation, and help emerging conservators as she is one herself, and has found it difficult to find relevant experience.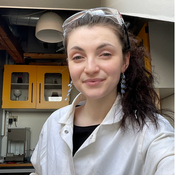 Isabella Hogan
Isabella is one of the Events Coordinators in the Icon EPN team. She is currently working at the Bevaringscenter Fyn in Denmark as part of a Master's degree in the Conservation of Archaeological and Museum Objects at Durham University. Prior to the MA, she worked as a curatorial intern at Bodmin Keep in Cornwall, and completed an undergraduate degree in Archaeology at Cambridge University.
Isabella is interested in animal-based materials, their decay mechanisms and the suitable conservation approaches to treating and preserving such collections. As part of her internship, she is researching the formation and preservation of dried cats - cats which have been stashed in the floors, walls, and roofs of buildings and have naturally desiccated.
In June, Isabella will move to Portsmouth to complete an internship at the Mary Rose Trust.