Icon 2024 Conference : "Conservation for Change: Growth and Impact Across Society"
Tuesday 2nd & Wednesday 3rd July 2024
Royal Geographical Society, 1 Kensington Gore, South Kensington, London SW7 2AR
Call for Papers is now open for Icon 2024 Conference! Scroll to the bottom of this page for the submission portal.
Deadline for submissions: 5pm Monday 27 November

The theme of our 2024 Conference is Conservation for Change, and we want to hear from about what this means to you.
Whether you are an established freelancer or a conservator, museum, archive, or heritage professional in a different sector, a partner organisation working with Icon, or organisation who would like to work with Icon in the future… What do we need to consider in-and-around conservation to make a societal change? How can the conservation profession – and linking sectors – engage, embrace, and educate on the importance of conservation in the preservation of our history and heritage?
We want to hear from you!
Key themes
We are inviting papers from those individuals and organisations that are interested in being a part of our Conference next year by presenting their stories, case studies, best practice, and research on the following key themes:
Impact and Performance
Partnerships and Collaborations
Engaging Your Audiences
Workforce Development
Future Resilience and Sustainability
Why should you present at the Icon 2024 Conference?
The Icon Conference is the biggest event specifically targeting Conservation across the UK, Europe and beyond. We'll provide delegates with the opportunity:
To connect with like-minded individuals and organisations to share information, best practice, and support.
To gain access to information, advice, guidance, research, and top tips on a range of topics relevant to conservation and the wider arts, museums, archive, and heritage sector via our conference presentations, keynote addresses, speakers, and evening networking event
To contribute to panel discussions, conversations, and informal networking with other delegates
All delegates to the Conference will benefit from the above, but those with successful paper proposals will also benefit from one FREE admission ticket to the conference, and a FREE Presentation Masterclass online workshop delivered at the end of January to provide you with tips, advice, and guidance on how to get the most out of your conference experience.

(The FREE Presentation Masterclass will also be offered to those whose submissions aren't successful, but are attending the Conference).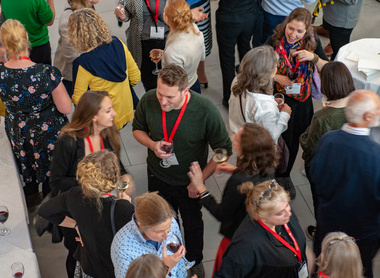 Key eligibility criteria for submissions
Please make sure you are available in-person in London for the conference dates of 2nd and 3rd July 2024 before submitting.
We are happy to offer up to £100 for travel and accommodation, but we can discuss this on an individual basis with confirmed speakers at a later date.
We are actively encouraging papers from a wide range of speakers as we want to encourage a variety of subject topics as well as differing individual and organisational points of view. This includes welcoming papers on international conservation, heritage, museums, and other arts professions.
We are looking for initial papers with a maximum word count of 350 words. This should allow you to provide enough initial detail regarding your idea.
We can only accept a maximum of two papers per individual.
Those successfully shortlisted will be contacted to discuss the detail of their paper – whether it's included in a single or multiple presentation slot, part of a panel discussion, in a conversation style interview, or as a case study (this will be dependent on the paper submitted).
All those chosen to speak at the Conference will be required to sign an agreement with Icon.
Any proposals sent through without using the submission form will not be considered.
All papers need to be in English and focused on the themes identified below.

Please see below for some examples on each of the themes to give inspiration and food for thought for those of you looking to submit a paper.
Timeline for entries
9 October 2023 – Call for papers announced
27 November 2023 – Call for papers closes
Early Jan 2024 – Applicants will be notified
Late Jan 2024 – FREE Online Presentation Masterclass for all C4P applicants
How papers for the 2024 Conference are reviewed
All papers will be reviewed by our Conferences Committee, which is there to help and support Icon with large events and conferences.

Please click below for further details about our Committee:

All applicants will be informed early January 2024 via email from [email protected].

If your paper isn't successful, it doesn't mean that we are not interested in your work or idea, but that we only have a limited number of opportunities for speakers and topics across our 2-day Conference. We would love for you to still come along to our online 'Presentation Masterclass' at the end of January (if you think it might be useful), and obviously we still want to see you at the Conference – please come and introduce yourself to us if you don't already know us!
We also may be in touch to see whether your paper could be something we discuss with our Groups and Networks, the editor of the Journal of the Institute of Conservation, or the editor of Icon's Iconnect Members' Magazine.
To submit your paper
Please complete the following editable pdf and submit it via the submission portal below.

Icon 2024 Conference Call for Papers - Editable form.pdf
There is space on the form for details of up to two speakers. If you wish to submit an entry with more than two speakers, please contact [email protected] so that we know how many speakers you are proposing and their details.
Please do bear in mind that the one free ticket to the conference assigned per presentation would be divided up further, per the number of speakers.
In addition to this form, you are welcome to send us a link to a short video presentation that describes your talk using the questions from the application form for guidance. Please send the video to [email protected].
If you find completing the pdf or using the submission portal below a barrier, please contact us at [email protected] to discuss alternative formats for submission.
The deadline for paper submissions is 27 November 2023.
---
Submissions now closed
---